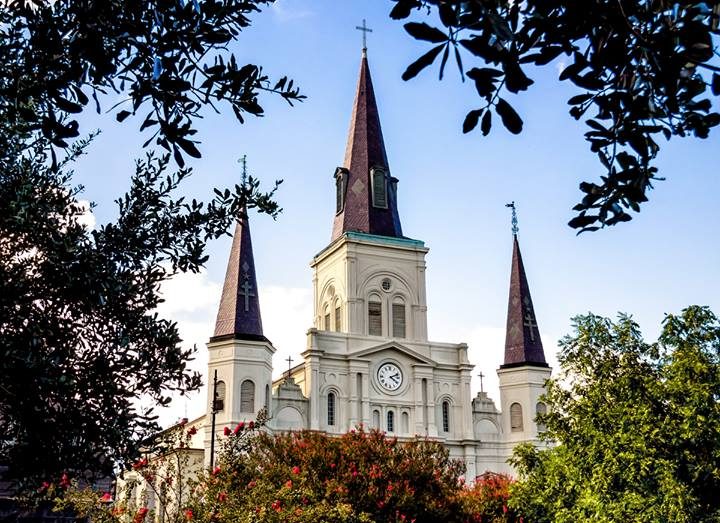 Fall in New Orleans means the end of heat-induced hibernation and switching gears to enjoy the upcoming months of moderate weather, a calendar full of foodie-haven and music festivals, a unique take on Halloween, plus several parades and many other fun activities. With the summer lull over, this is a great time to visit the Crescent City. Here are a few highlights, to give you an idea just how much is going on in New Orleans in the fall.
SEPTEMBER
Southern Decadence
August 29 – September 2
Held over the Labor Day weekend, this popular festival celebrates LGBTQA culture and attracts participants from all over the world. The festival's annual hub, Bourbon Pub/Parade, will be open 24/7. Just like in the previous years, it will serve as an epicenter of the Bourbon Street Extravaganza, a free show/block party happening on Saturday, and the annual Southern Decadence Grand Marshal Parade on Sunday.
Restaurant Week New Orleans
September 10-16  
This is your chance to enjoy a popular gastronomic extravaganza at a more economic price point. Participating restaurants — which include James Beard luminaries, new hotspots, iconic grand dames, and everything in between — offer set course menus at a discount.
New Orleans Burlesque Festival
September 13-14  
This annual international event brings together the best of local talent and some big international names. Dancers, emcees, comics, singers, and variety-act performers will be doing nightly shows at the Civic Theatre and House of Blues. The main event, held on Saturday at the Civic Theatre, will have performers from all over the world competing for the title of "Queen of Burlesque."
National Fried Chicken Festival
September 20-22  
Now expanded to three days, this relative newcomer on the foodie-fest scene promises to be one of the highlights of September. The free fest will have three outdoor stages, two for music and one for the cooking demos, at the Woldenberg Riverfront Park. The stellar food lineup includes over 30 well-known fried chicken vendors coming from all over the region to represent different cooking styles of this classic Southern dish.
NOLA on Tap Beer Fest
September 21  
Held at the New Orleans City Park Festival Grounds, this is the largest fundraiser for the Louisiana SPCA and the largest beer fest in the area, with more than 400 beer offerings from the local and national breweries and homebrewers (other beverages will also be available, of course). The festival is kid- and dog-friendly.
OCTOBER
Oktoberfest
October 4-5, 11-12, 18-19
New Orleans throws its version of Oktoberfest over the three weekends in October at Deutsches Haus in Mid-City, to celebrate the city's rich German history with all the usual trappings, including authentic food and live music.
Art for Art's Sake
October 5
One of the best attended art events in the city, this annual fundraiser is an open house for the New Orleans Contemporary Arts Center (CAC) and an opportunity to browse the shops and galleries in the CBD district and along the commercial stretch of Magazine Street. Expect extended hours, special deals, live music, and beverage sampling.
Beignet Festival
October 5
This annual extravaganza returns for its fourth year. The free, daylong party will give you an opportunity to sample over 30 renditions of the beloved beignet, from traditional sweet treats swimming in powdered sugar to savory options bursting with seafood and cheese. There will be vegan and gluten-free beignets to accommodate every diet, and awards will be given in four "Best of" categories once again. Don't forget to vote for your pick!
Tremé Fall Festival
October 5
This local fave throws a serious party in the blocks connecting Henriette Delille, Tremé and Gov. Nicholls Streets in one the nation's first African American neighborhoods during the first weekend of October, just as the weather is getting nice. Most of the action is centered in front of the historic St. Augustine Church on the 1100 block of Henriette Delille Street. Expect entertainment from New Orleans musical royalty and food trucks and vendors from some of New Orleans' best eateries. The festival is donation-based.
Carnaval Latino
October 12
The vibrant celebration of the National Hispanic Heritage Month (September 15 – October 15) wraps up with the annual free festival organized by the Hispanic American Musicians and Artists Cultural Association, Inc. (HAMACA) and will have Latin music from different parts of the world, food and drink, art, and a parade. Parade of the Americas, or "Desfile De Las Americas," kicks off at 2 p.m. in the Washington Square Park in the Marigny, weaving its way through the French Quarter to the Warehouse District with about 20 floats. Krewe of Quetzal is accompanied by marching folkloric groups and bands, all featuring costumes that celebrate national roots of various Latin countries.
Mac n' Cheese Fest
October 12
This free annual fest is held at the Louis Armstrong Park and keeps expanding to accommodate its growing popularity. This year, it will feature a judged competition among the dozens of mac 'n' cheese dishes from Louisiana restaurants, pop-ups and food catering businesses, an artist market, and an eating competition.
New Orleans Film Festival
October 16-23
The New Orleans Film Festival is one of the largest film festivals in the South and is the longest-running one festival of its kind in the state. The festival has grown to the point of attracting thousands of attendees and industry insiders, plus more than 400 filmmakers and over 200 films annually. It's one of the few film festivals in the nation that showcases Oscar-qualifying films drawn from all three Academy-accredited categories: Narrative Short, Documentary Short, and Animated Short. Venues include Broad, Orpheum and Prytania theaters, and the festival's hub, the Contemporary Arts Center.
Crescent City Blues and BBQ Festival
October 18-20
This free fest happens every year in the CBD, in Lafayette Square. Join the fun for two stages of music, a dozen of the best barbecue vendors in the region, and a large art market.
Krewe of Boo
October 19
This lively affair has become the "official Halloween Parade" in New Orleans in 2007, and has been going strong since, only growing in popularity. The parade is brought to you by Kern Studios, so expect the usual 3-D fiberglass and papier-mâché extravaganza, plus all of your favorite spooky characters. All the monsters on the floats are PG-13 and not too scary even for the youngest kids. Parade-goers are encouraged to come in costume. Expect plush toys, candy and unique, eco-conscious throws.
Voodoo Music + Arts Experience
October 25-27
A mammoth outdoor music festival that takes over City Park around every Halloween, Voodoo attracts thousands of costumed revelers without fail with national headliners, art installations, and a weekend of great music among the oaks.
Halloween
Second half of October; October 31
New Orleans puts its own spin on the Halloween fun with a slew of balls, costume parties, a parade, haunted tours, and a huge block party on Frenchmen Street. The city knows how to do Halloween in a family-friendly style too. We are thankful for the variety, and hope you'll find plenty of entertainment in the couple of weeks leading up to the holiday as well as on the day of Halloween itself.
NOVEMBER
Oak Street Po-Boy Festival
November 3
There's a po-boy for every budget and palate in New Orleans, and at this festival dedicated to the beloved New Orleans staple you can sample over 50 varieties. Dozens of vendors also compete in several "Best of" categories.
Boudin, Bourbon & Beer
November 8
Every November celebrity chef Emeril Lagasse invites scores of top local and national chefs to join him for his one-night fundraiser to benefit the Emeril Lagasse Foundation, featuring a specially curated, Louisiana-inspired menu, live music and open bar. Over 70 chefs participate at this outdoor festival held at the Champions Square, the plaza located adjacent to the Mercedes-Benz Superdome.
Fête des Fromages
November 13-16
Who doesn't like cheese? This relative newcomer has expanded from a one-day day to the weekend of cheese-eating opportunities at the New Orleans Jazz Museum. There you can taste more than 150 varieties of cheese, meet the cheesemakers from all over the world, and watch the chefs attempt to break down a giant slab of cheese in a cheese-wheel cracking competition. The cheese will come paired with wine, beer and cider, and a few cheese experts and local chefs will be on hand to present on the history of cheese.
Tremé Creole Gumbo Festival
November 16-17
The annual Tremé Creole Gumbo festival serves up the perfect trifecta of gumbo, brass bands and cooler temps, returning to celebrate over a decade of existence at the Louis Armstrong Park. This year, the free fest is joining forces with another popular local event, the Congo Square Rhythms Festival, adding more music, and featuring two art markets and two food courts.
Thanksgiving at the Fair Grounds Race Course
November 28
Per a long-standing New Orleans tradition, it's customary to turn out at the track on Thanksgiving Day to watch the opening-day races while sporting cocktails and some seriously fabulous hats. The first race starts at 11 a.m., and the racetrack also serves a sumptuous holiday buffet, plus a fancy dinner with all the holiday trimmings at the Clubhouse.
Bayou Classic
November 29-30
Each November the Bayou Classic draws the fans and alumni of Southern University and Grambling State University to New Orleans to partake in one of the country's greatest college sports rivalries. Over the years, this has become much more than a football game, drawing more than 200,000 visitors to New Orleans. The event stretches for two days and includes a fan fest, a parade, battle of the bands, and, of course, the big game at the Superdome.
Celebration in the Oaks
November 29 – January 1
This beloved New Orleans tradition is celebrating over three decades of existence, selling out quickly for the past few years. Celebration in the Oaks is a dazzling holiday lights festival scattered throughout the 25 acres of the City Park, including the Botanical Garden, Storyland, and Carousel Gardens Amusement Park. Stroll through the magical grounds swathed in hundreds of thousands of twinkling lights, take a train ride or a holiday picture by the iconic Mr. Bingle, listen to the caroling, do some holiday shopping, or ride the historic carousel.