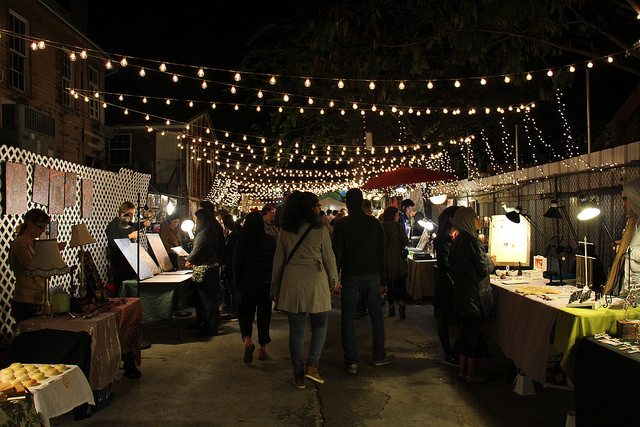 Frenchmen Art Market photo by Connie Ma
Check out the city's robust music culture — there's no better place for live music than the Marigny Triangle. Situated between Esplanade Avenue and Elysian Fields, this wedge-shaped neighborhood is bisected by Frenchmen Street, a pedestrian-friendly strip of music clubs, bars, restaurants, and art markets that don't get going until after 10 p.m. At that point, brass bands, pedestrians and food trucks combine to create a giant block party. Dance on the street corner or venture into one of these excellent music venues.
Blue Nile (532 Frenchmen St.)
You may have spotted a neon crescent moon sign of this stalwart music club hanging above the sidewalk. Blue Nile hosts a wide range of musical genres ranging from funk to brass bands. Cover price varies depending on the act, and a word to the wise: the club's second-floor balcony is the best place to overlook the wild street party that is Frenchmen Street.
Downtown Tattoos (501 Frenchmen St.)
This corner tattoo shop is the premier place to get inked in New Orleans. Its roster of talent includes heavy hitters, and the shop takes walk-ins for the ultimate souvenir — but if you're not ready to commit to artwork on your skin, you can hang the tattoo artists' work on your walls when you visit the adjacent art gallery. There, tattooers who also paint on canvas sell their work.
13 Monaghan (517 Frenchmen St.)
Want to grab a bite without experiencing Frenchmen FOMO (fear of missing out)? Belly up to the bar at 13, a late-night restaurant serving up well-executed takes on pub grub, with Louisiana twists and many vegetarian and vegan options. The tachos (tater tot nachos) are a cheesy, can't-miss appetizer, and boudin bahn mi is delicious. There are also a couple of vegan options on the menu. Grab a Guinness, eat up, and prepare for a night on the town.
Three Muses (536 Frenchmen St.) 
Three Muses is one of the best dinner-and-a-show venues in the city, and there's live music every night. It can get crowded, so you want to make a table reservation (good for 90 minutes, after which you can go to the bar). Some of the best musicians have played there, and the excellent food menu has a lot of vegetarian options.
The Spotted Cat (623 Frenchmen St.)
Petite, sweaty, noisy and fun, this music club features up to three bands nightly. It draws an eclectic crowd — you'll see everyone from college students to septuagenarian tourists out there dancing. There's a one-drink minimum, and the bar is cash only, so go prepared. The venue can get crowded, so if you need to get some air, step out and take a breather at a nearby art market.
Palace Market Frenchmen (619 Frenchmen St.)
This nightly art market is held in a quirky, light-strung lot, lined with vendors selling everything from handmade soap and incense to original art and clothing. It's a good place to shop, chat and hang out when the hustle and bustle of Frenchmen gets too overwhelming. Bring your drink and settle into a cozy nook, where you can chat and people-watch until you catch your breath.